In the last post we talked about the challenges in remote conference interpreting, especially focusing on simultaneous interpreting. Today, instead, I'd like to focus on remote consecutive interpreting, more in particular considering the over-the-phone modality.
Apart from onsite interpreting jobs (95% of the cases for me), more and more often in the last 3-4 years I have provided over-the-phone remote consecutive interpreting services for a US consulting company. It is for small meetings of only two people in general, in which a consultant or an investor from a country contacts an "expert" of the field based in another country, to carry out a market studies or tackle financial enquiries.
I actually started working with this US consulting company for onsite services, with the first meeting in Madrid between an Australian investment group (coming to Madrid all the way from the land down under) and a local expert.
Advantages of over-the-phone consecutive interpreting
Without generalising, I have to say that for this kind of meetings and for my specific circumstances and logistics, I find the remote service much better than the onsite meetings. Since they are never going to take place in Alicante (where I am based), doing it over the phone saves me all the travelling organisation, travelling time, and the client doesn't have to pay for travelling costs.
Everything goes through an efficient and automatised platform, so I don't have to send a quote each time (as I would for onsite assignments, always requesting an upfront payment): they already have my fees on their database; they send me an invitation; I accept it indicating my availability; the meeting is confirmed, and at the end of the call I automatically receive the payment.
I would be alone anyway in this kind of consecutive assignments, so the booth mate is not an issue here. I don't have to fear potential issues with my Internet connection, either. It's a simple call without video, so I can wear my AirPods (which I am deeply in love with). I comfortably take notes with a big, handy notepad on my desk (I don't have to hold it in a very elegant yet uncomfortable way as in a face-to-face situation). Plus, I can fill my desk with all the glossary sheets and notes I want. Also, another good advantage is being able to look up anything on the Internet, if I need, without anybody noticing a thing.
Again, it's a very specific type of meetings, where the non-verbal component plays almost no role, in my experience.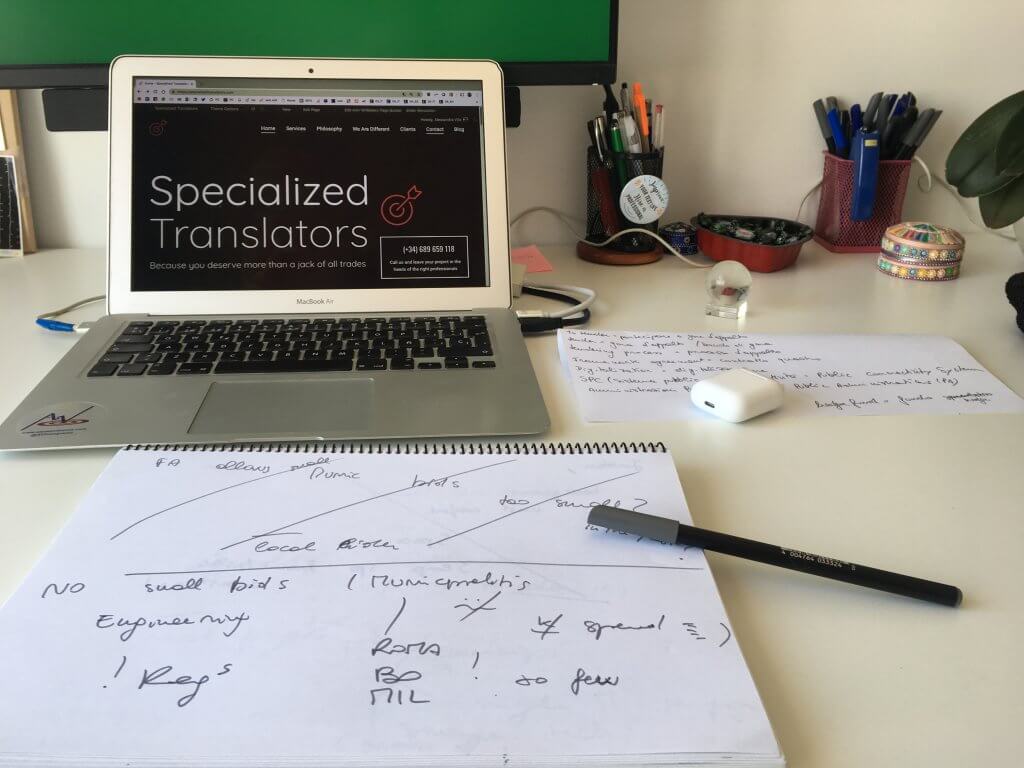 Disadvantages of over-the-phone consecutive interpreting
The only slightly-tricky part might be voice overlapping (e.g. the expert makes a pause and I start interpreting believing he's done, but then he wants to add something else he just remembered). Yet, this is far from a big issue; I would simply say, "Sure, go on", and problem solved.
Furthermore, exactly as in onsite meetings, some speakers want to talk for ages, leaving the other person having no clue of what is being said for 20 minutes, and that's when you should try to delicately set the timings to avoid the listener's frustration.
In other words, I do exactly the same I would do onsite, but more comfortably; I apply the same economic conditions, and lose no time travelling (and, as they say, time is money); plus, the client doesn't have to pay for travelling costs. In this very specific case, I think that it's definitely a win-win situation for everybody involved.
A very different story is remote conferencing interpreting for big events. If you missed it, have a look at the previous post about the challenges in remote conference interpreting, where AIIC guidelines on remote interpreting are also mentioned.
As always, if you'd like to share your experience and insights, you're more than welcome to do so on the comments below. Thanks and see you soon!