This year IAPTI (International Association of Professional Translators and Interpreters) gathered in the beautiful Spanish city of Valencia for an amazing conference on September 29th and 30th.
Friday
Additionally, three IAPTI workshops were offered at Universidad Europea de Valencia on Friday 28th: an English-into-Spanish medical workshop by the number one of the field in Spain, Fernando Navarro; a business-oriented workshop by one of IAPTI's great organisers, Gary Smith; and, last but not least, a third workshop on how to prepare for a high-profile interpreting assignment by the one and only Tony Rosado.
Once the workshops were over, some of us had lunch at a very nice restaurant by the port. Those coming from far away could already have a taste of the Spanish life, also timewise: we started eating at 3 pm and finished by 6 pm our sobremesa (when you're done eating but remain at the restaurant talking).
Shortly after, a cocktail dinner was waiting for us at Hotel Barceló, with one of the most exclusive views of the City of Arts and Sciences.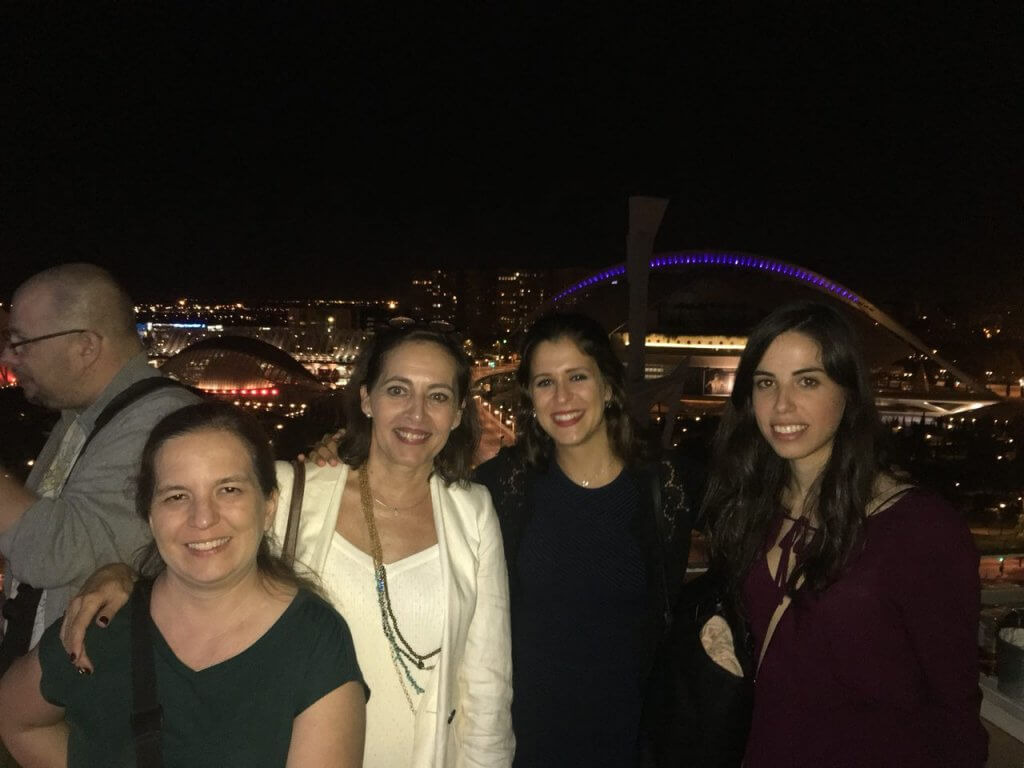 Saturday
If you look at Saturday and then Sunday's IAPTI programme, you might understand why ubiquity would have come in handy at this conference. There were too many interesting talks taking place at the same time, so it was extremely hard to choose just one.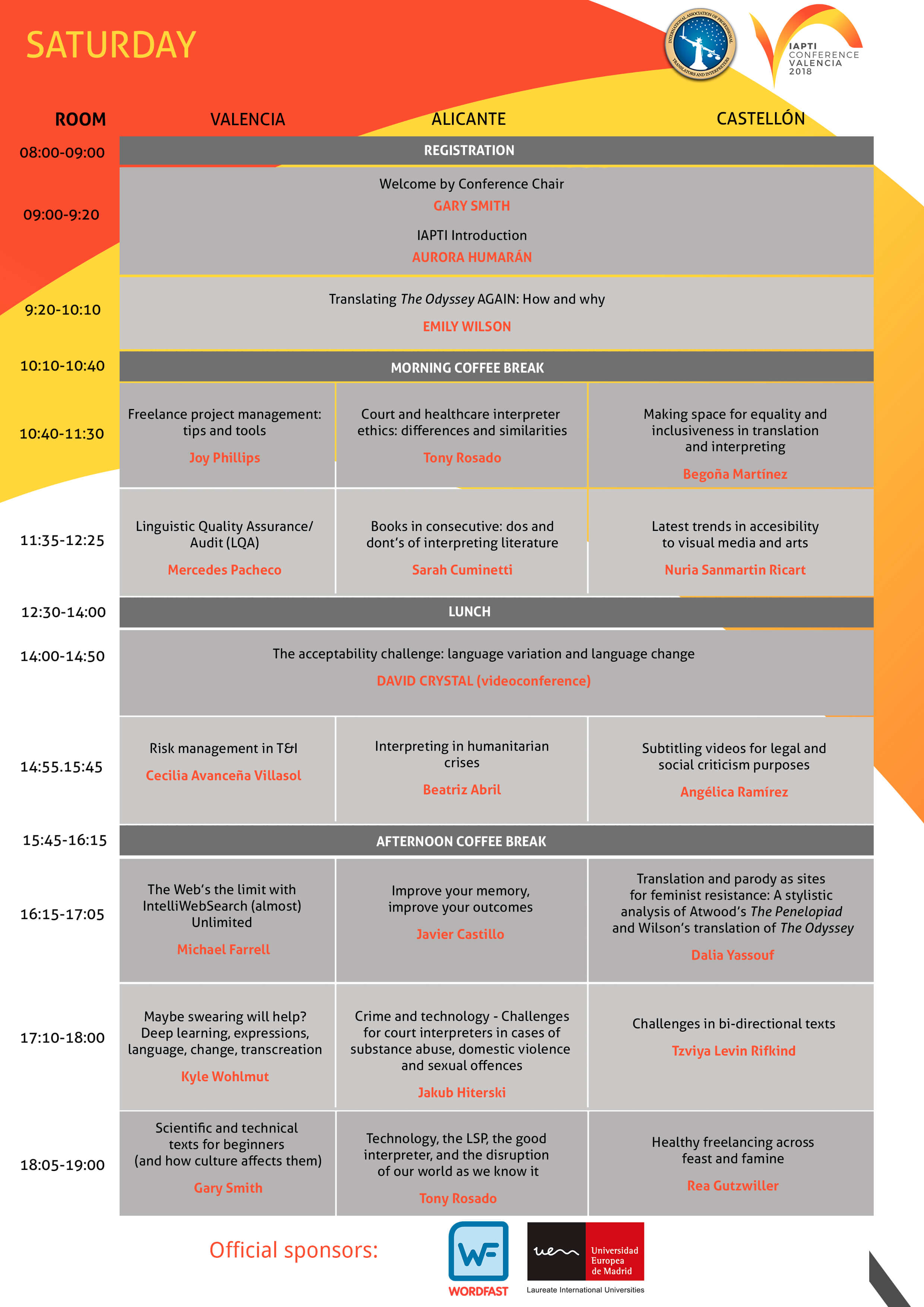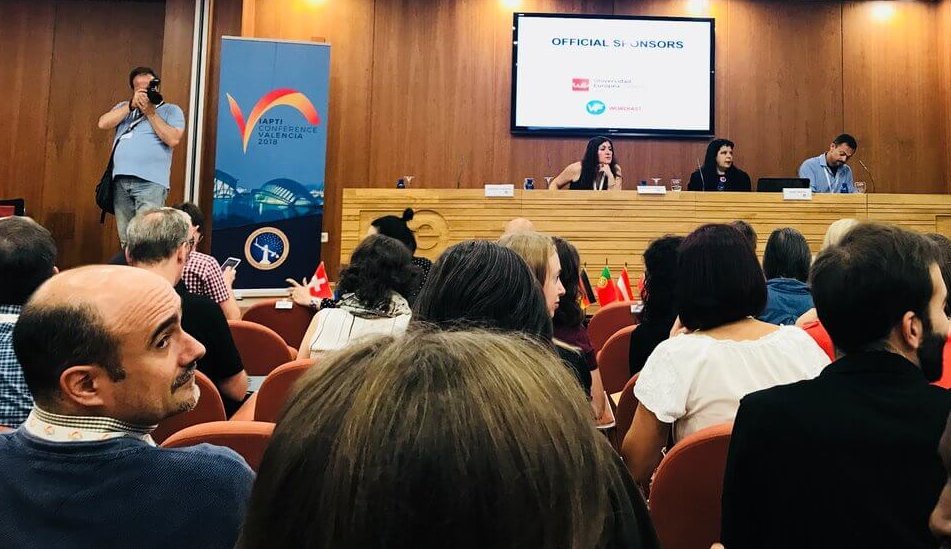 After the great opening by Gary Smith and IAPTI's president, Aurora Humarán, the first presentation was delivered by the first keynote speaker, Emily Wilson, who re-traslated the Odyssey into English. She dived into this challenging adventure to try to be more loyal to the original and convey the possible different interpretations it offered. Curiously, media coverage mainly focused on the fact that it was a woman who now translated it, even though many female translators had already done the same into different languages before her.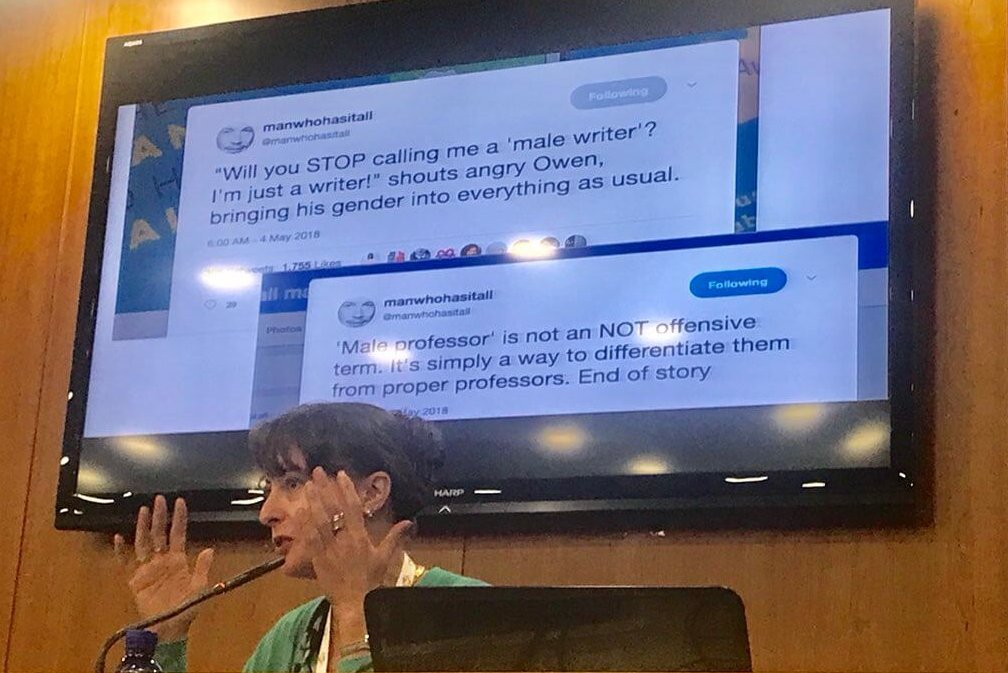 Since ubiquity wasn't unfortunately included in the lovely IAPTI welcome bag, you can only find here a summary of the talks we attended.
Tony Rosado spoke of court and healthcare interpreter ethics, where we considered, among other aspects, interesting ethical dilemmas regarding confidentiality. For example, can you reveal a piece of information you got in a previous interpreting session if the patient is in a coma and his life depends on it? Tony underlined that your goal as a healthcare interpreter is the patients' wellbeing, but you should always get their consent first if possible. In a healthcare situation, you need to interpret everything, and warn everyone of it; they can't tell you, "Don't say to him that…". Also, you should try to persuade patients to tell the truth, unlike what happens in court interpreting. In the latter, Tony explained that duty of confidentiality ends by court order; not even a priest is exempt, only the legal team (including the court interpreter) thanks to the client-attorney privilege.
After Tony, many interpreters had the pleasure to attend Sarah Cuminetti's presentation about her interpreting experience related to books. She explained that most of the times you need to offer consecutive or whispered interpreting in such settings. Ideally, you should read the book in question, but that's not always possible due to last-minute requests. In that case you need to prioritise and focus on the authors' biography and main titles published (of which you should know the translation). It's also key to try to find out their favourite writers and books since this is a common question asked by journalists. Other than these, Sarah clarified it won't be possible to know all the writers and book titles of the world in two languages, and that there will be surely someone in the room that catches the reference, so don't make titles up yourself!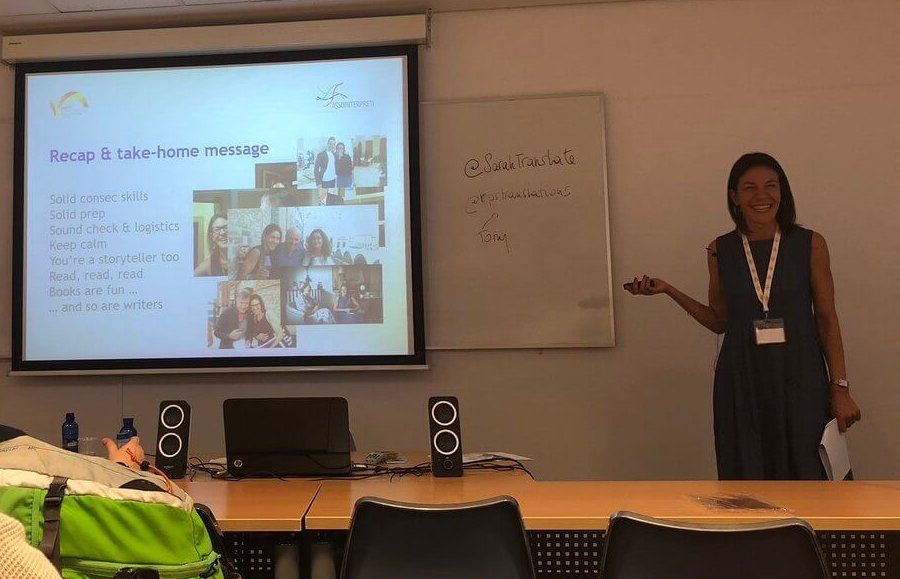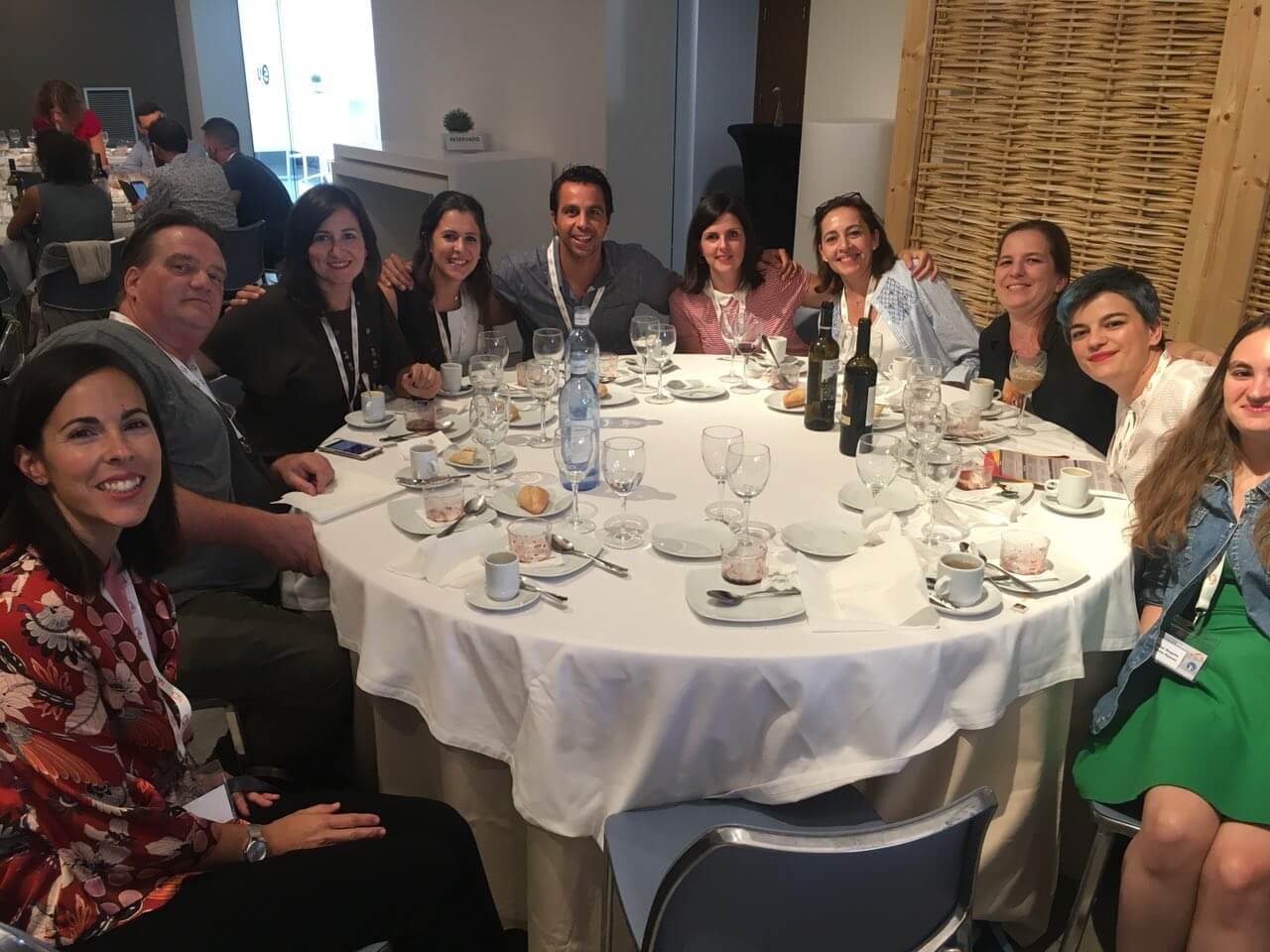 After a delicious lunch, technology offered us the very insightful talk of Prof. David Crystal who spoke about language acceptability and change, with a great deal of humour. He explained that there are many English varieties: written and oral English; formal and informal English; in-house (for peer experts) and out-of-house (for general audience) English. Furthermore, translations can be either synchronic (as language is now) or diachronic (with history of language use over time). As translators, we might therefore face the dilemma of whether we should keep on translating concepts or terms as we used to in the past for consistency or rather based on the current needs. Prof. Crystal also underlined that it's completely normal that language changes (e.g., 'must' has been substituted more and more by 'have to' in the last decades), and that the only ones that don't change are dead languages.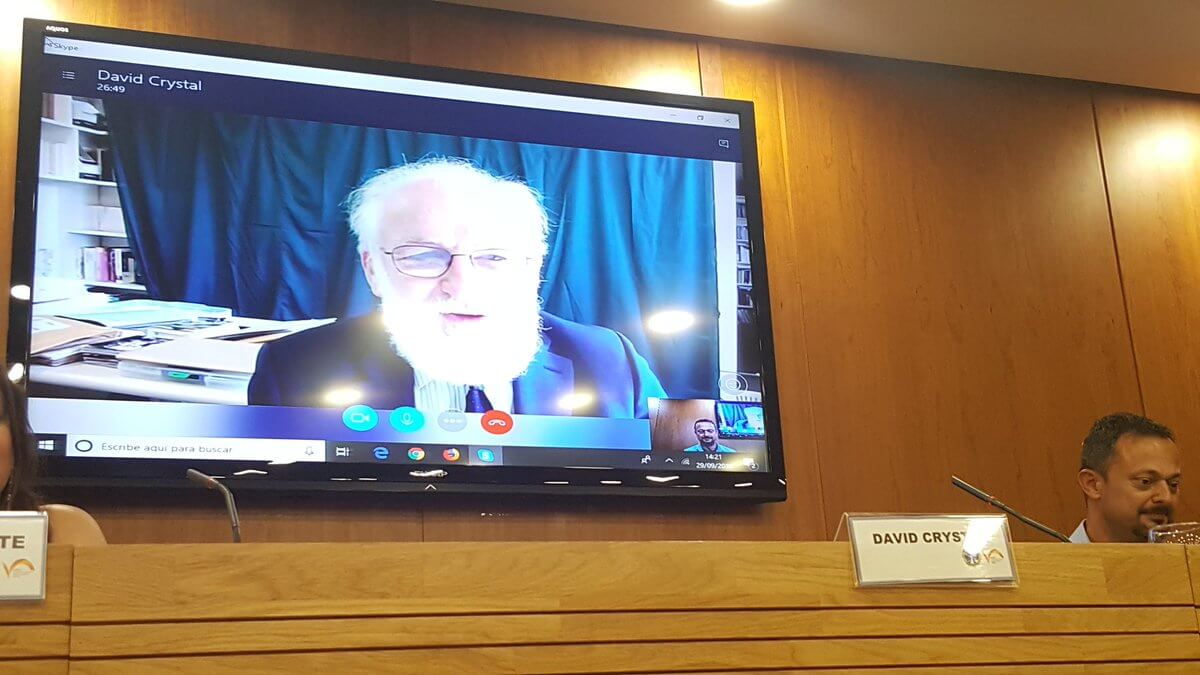 Then, back to the interpreters' room to listen to Beatriz Abril on interpreting for migrants and refugees, followed by Javier Castillo's workshop on how to improve our interpreting skills using memory palaces (e.g., picturing elements of a list somewhere in your house in a specific order to remember them more easily).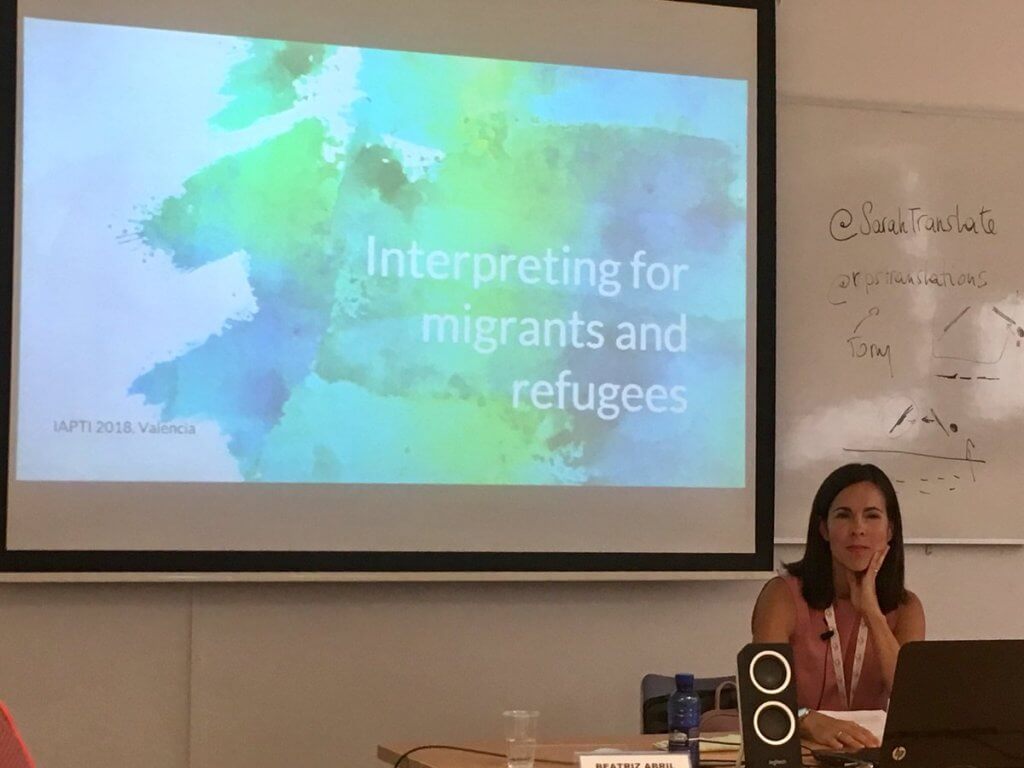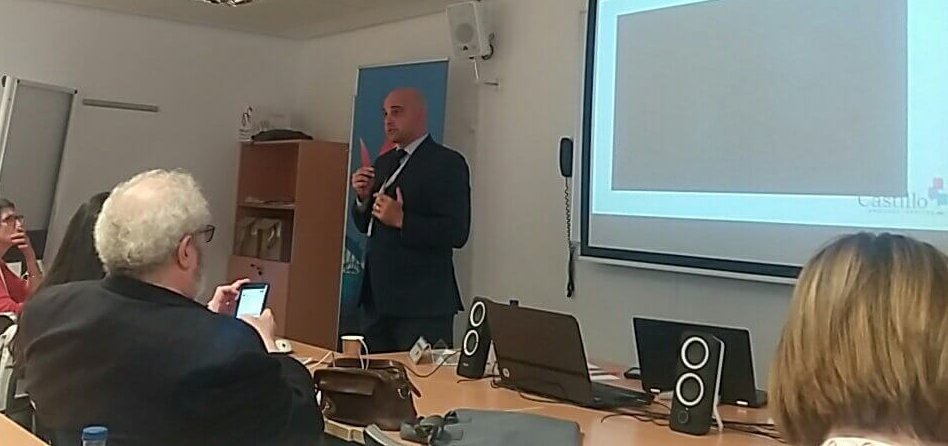 Kyle Wohlmut's presentation fulfilled the extremely high expectations created by his hilarious pre-IAPTI video (warning: please keep out of reach of children, watch it when you are alone, and get ready to laugh for 2:24 minutes). Among many funny aspects related to swearing, he considered different translations of Trump's "shithole countries" and the book "The Subtle Art of Not Giving a F**k".
Then back to the interpreters' room again to attend another presentation by Tony Rosado, in which he tackled the very controversial topic of remote interpreting. This reality is here to stay, but we interpreters need to embrace it only under certain conditions: that we are in the same place as our booth mate, that we get paid the same as we would onsite (and not per minute, only when truly interpreting, as we unfortunately start to see). This is possible for example with Kudo, among other solutions.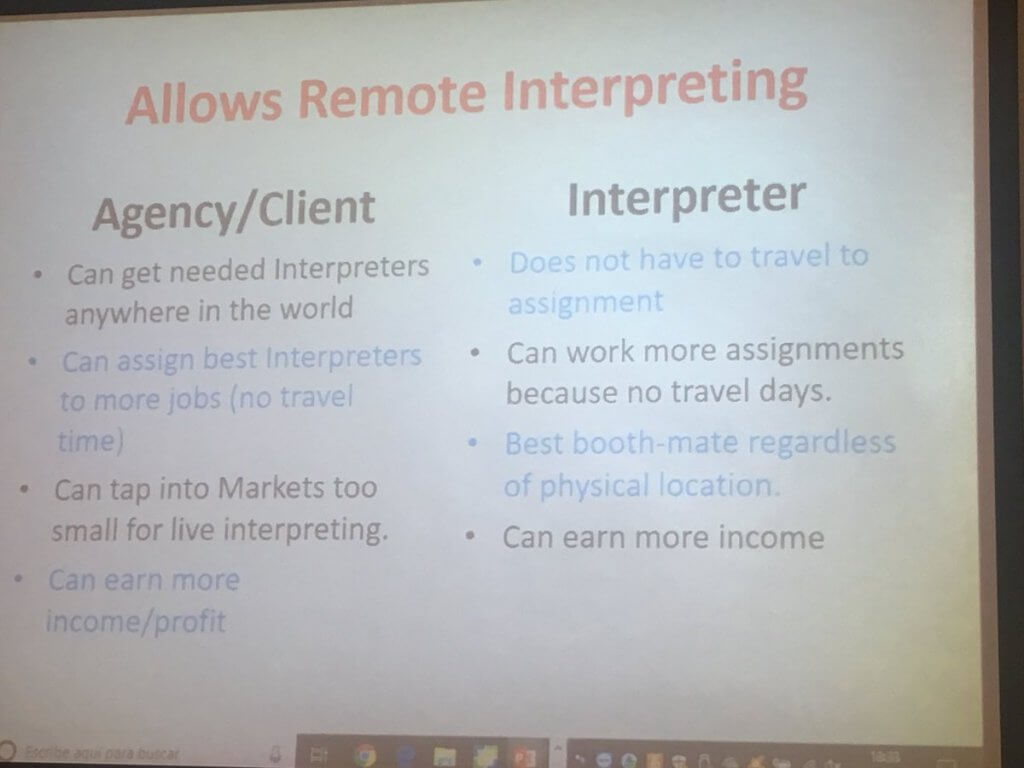 Saturday ended with a Basque pinchos dinner at another exclusive location.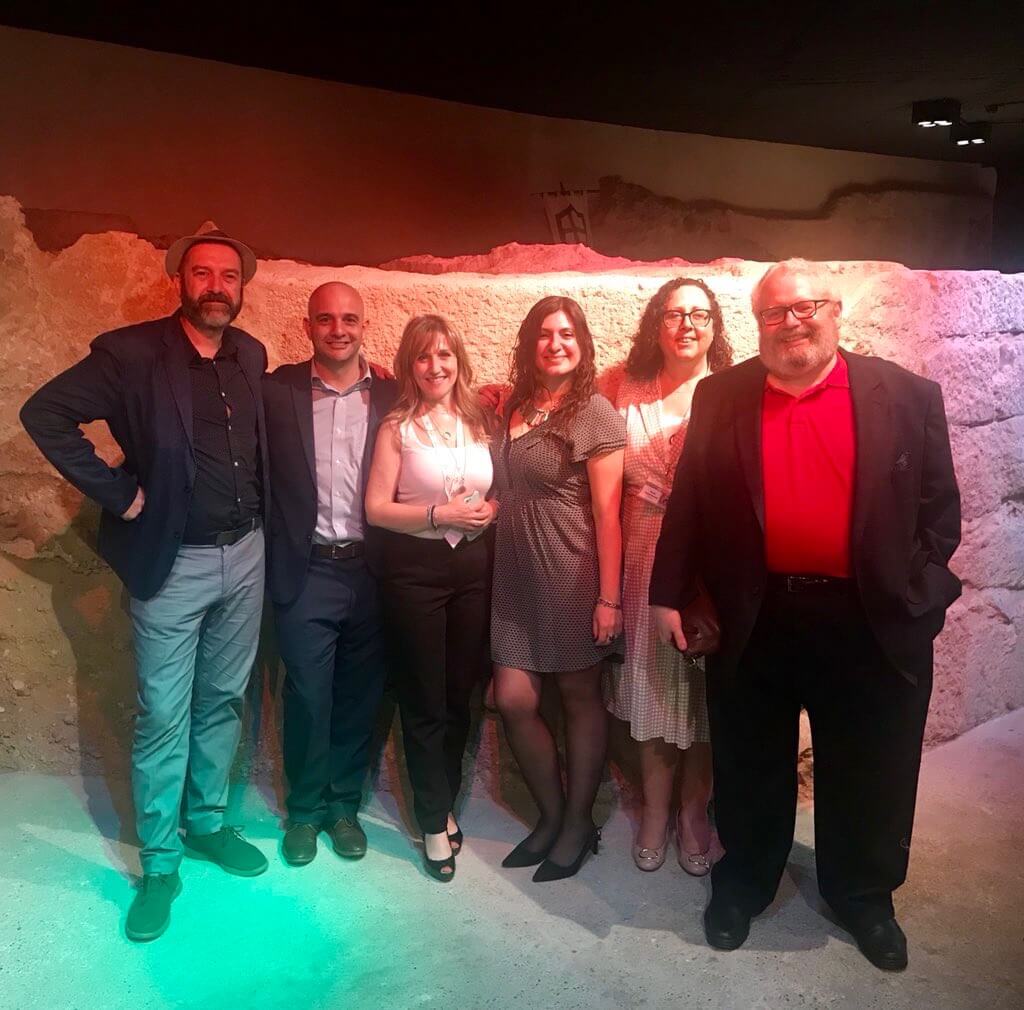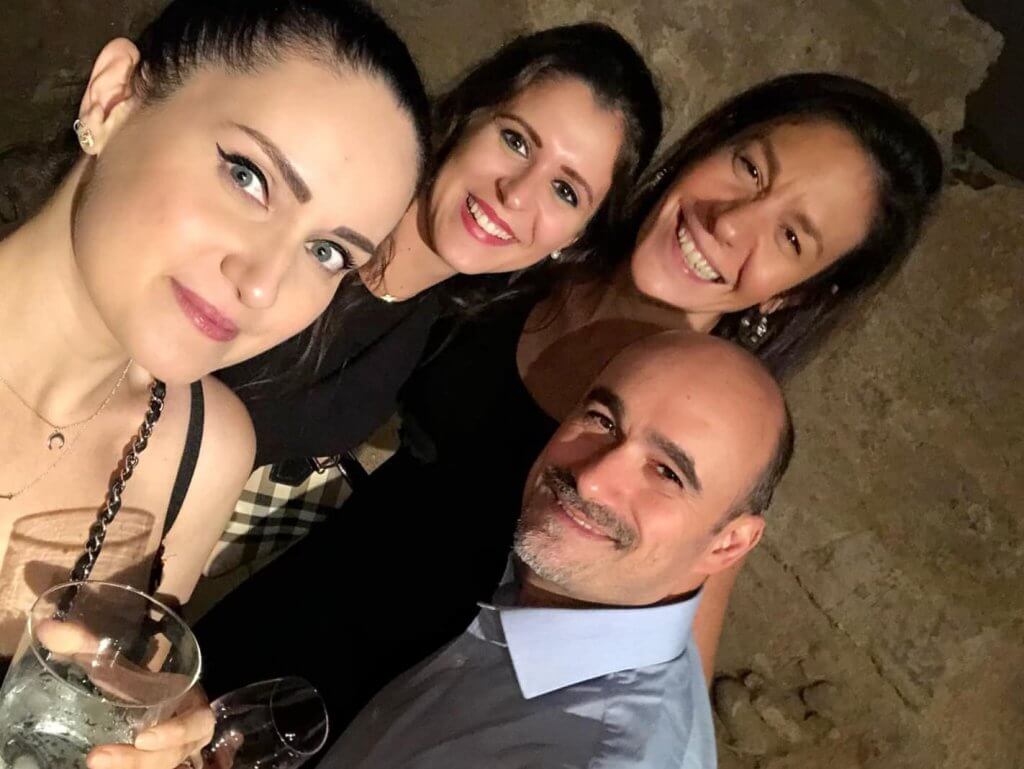 Sunday
The dilemma of which talk to attend wasn't any easier on Sunday. Alessandra even considered not attending her own talk to go to someone else's presentation, but eventually decided it wouldn't have been very polite to do so! 😉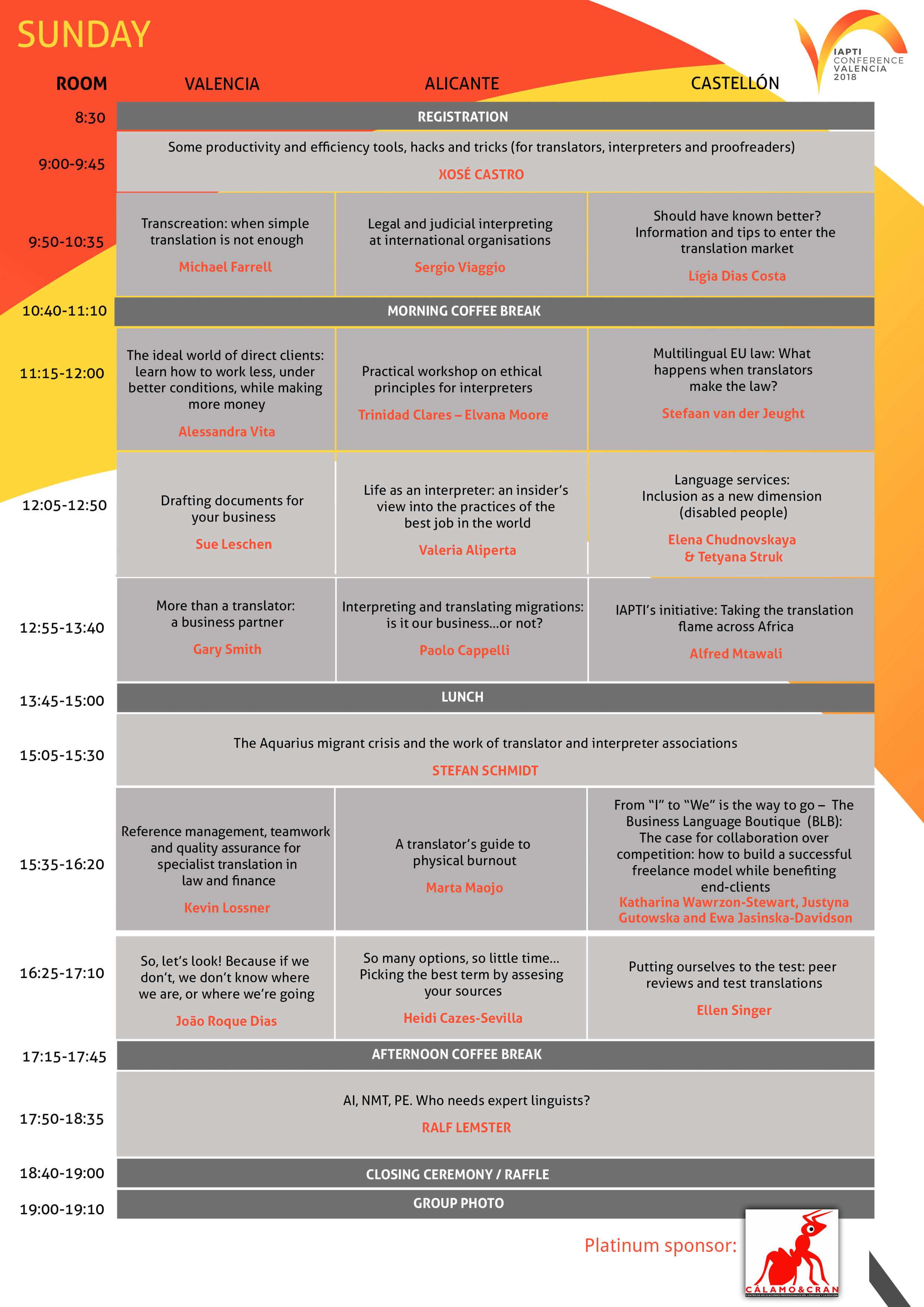 As always with Xosé Castro, the second day couldn't have started better. In his very fun and comprehensive talk, Xosé hilariously shamed us a little to invite us to be more productive, offering many useful tricks and tools.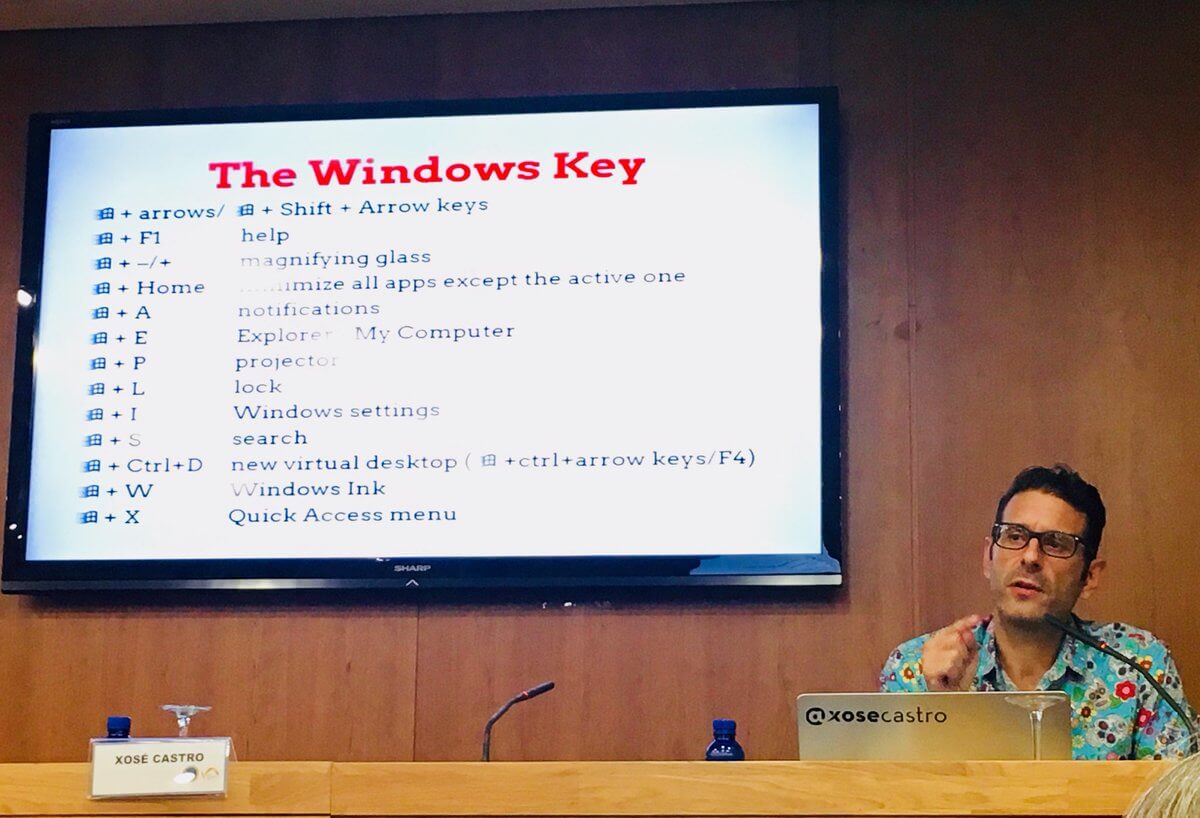 Sergio Viaggio, former UN chief interpreter, talked later about the legal and judicial interpreting settings. He also considered the pros and cons of retour, mentioning that nothing is either black or white, but it depends on the context (as always in our field).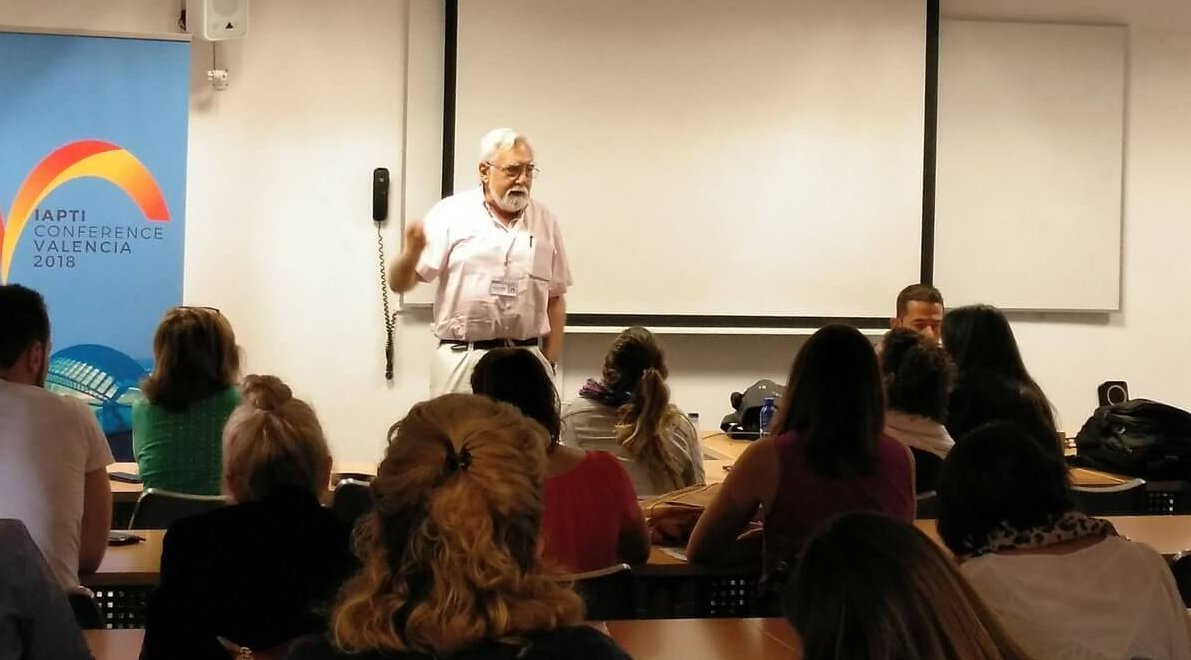 Then Alessandra, manager of Specialized Translators, spoke about running our business with direct clients and explained how to work less, under better conditions, while making more money. The idea behind her talk is summarised on her first slide.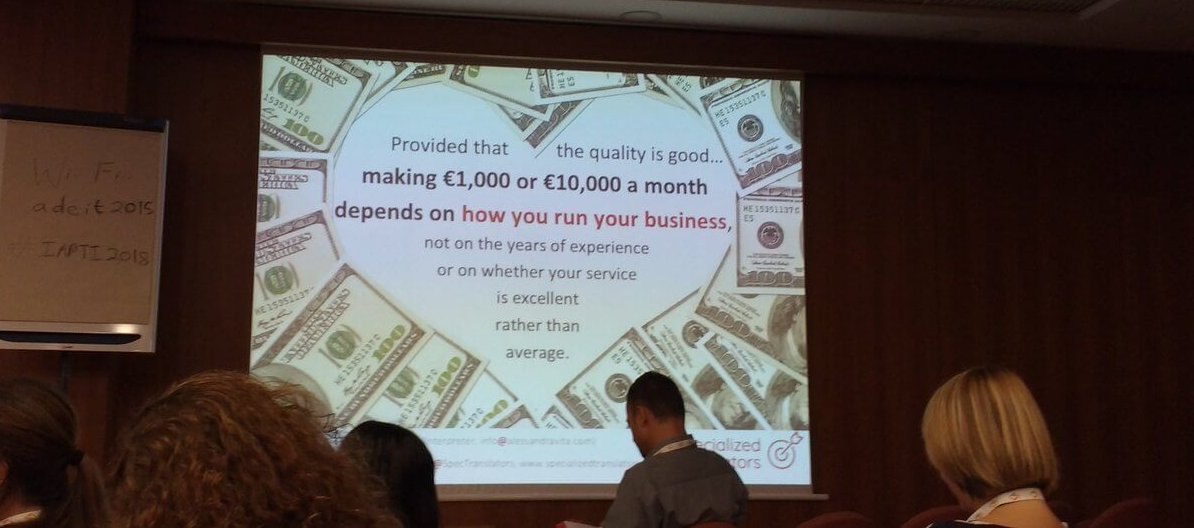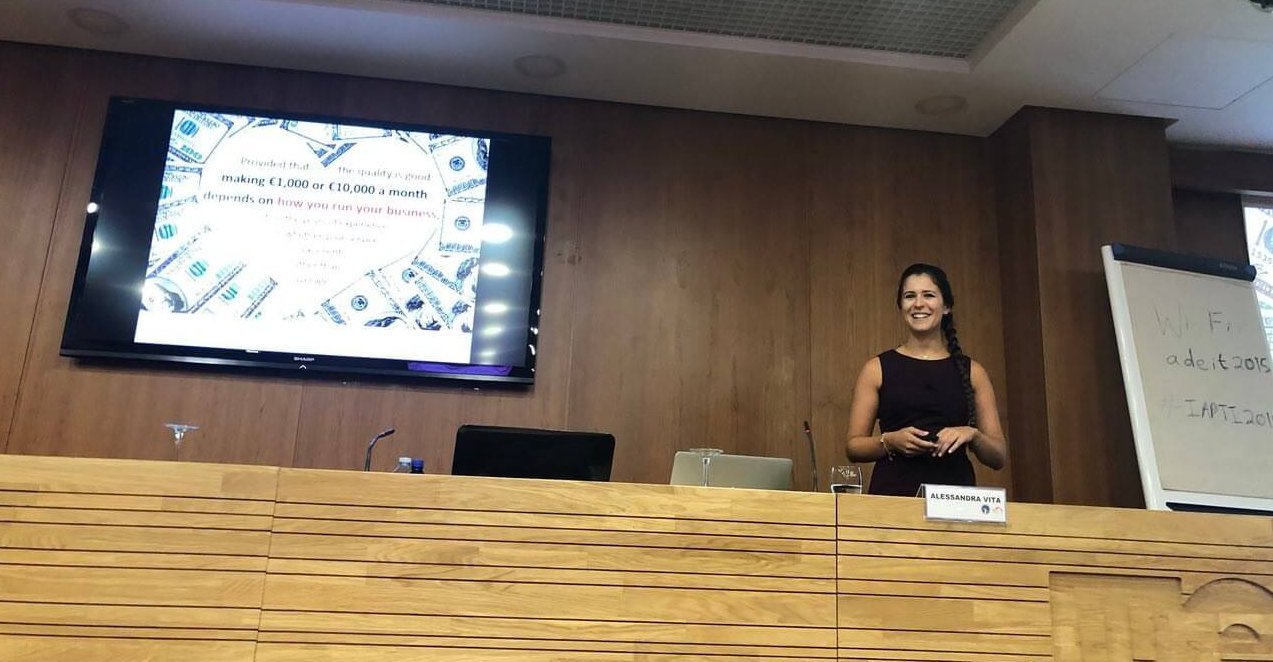 Alessandra also mentioned well-tested and effective strategies on how to get amazing deadlines for translations, receiving plently of documentation many days before an interpreting assignment, how to cover our backs by including clauses in quotes to be signed by the client, and so on. In general, she recommended an economic and business approach to solve common problems we have to face on a daily basis.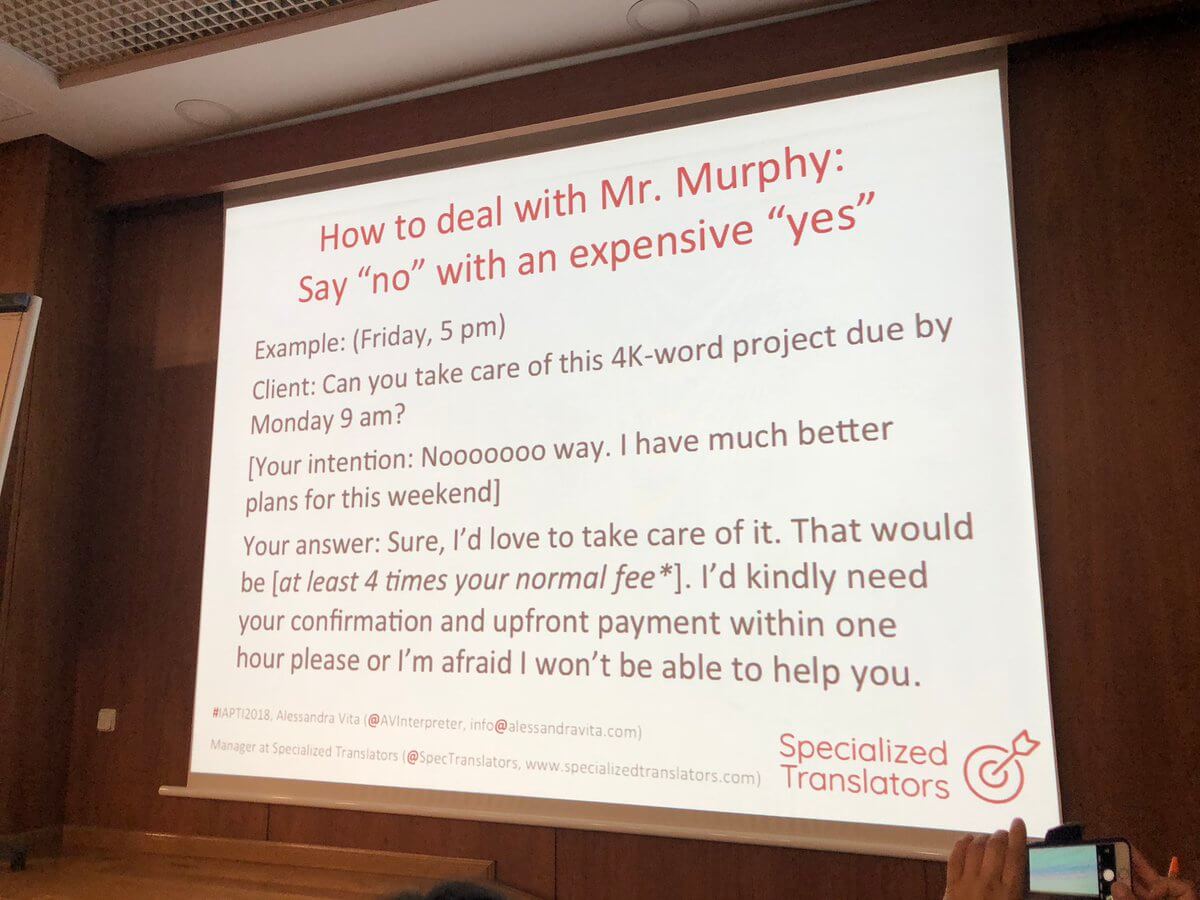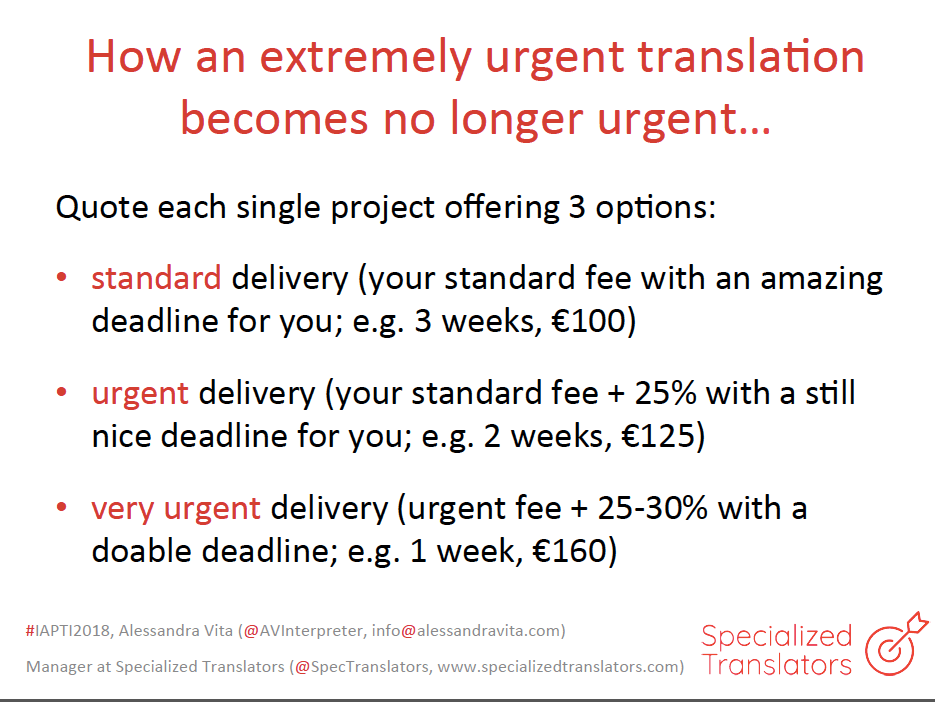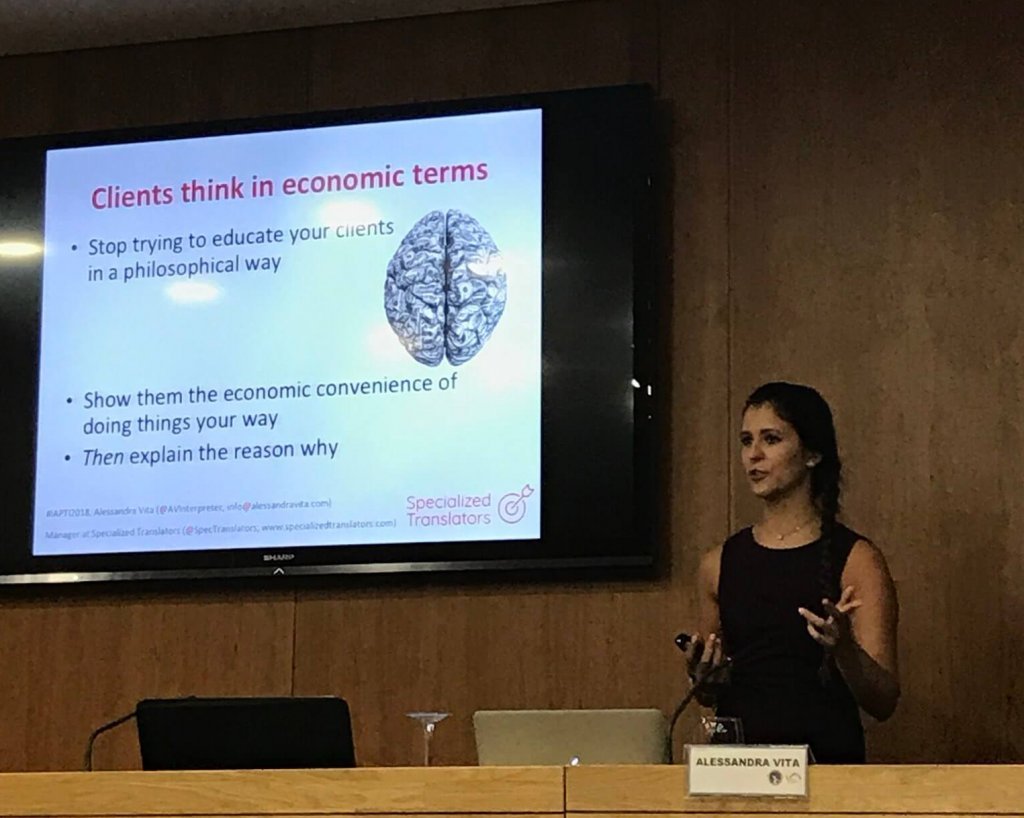 Since many attendees asked for the link, below you can also find the video she used to show the toxic patterns that we need to eradicate in our profession and that would never happen in other industries.
Afterwards, Sue Leschen spoke about the different documents we may need for our business: CV (she has a master CV from which she selects only the relevant sections whenever she needs to send a personalised CV to a client), contracts, quotes, estimates, business cards, among others.
Before lunch, Paolo Cappelli offered a different perspective on the issue of interpreting for refugees and migrants, focusing on the historical and economic situation of Africa.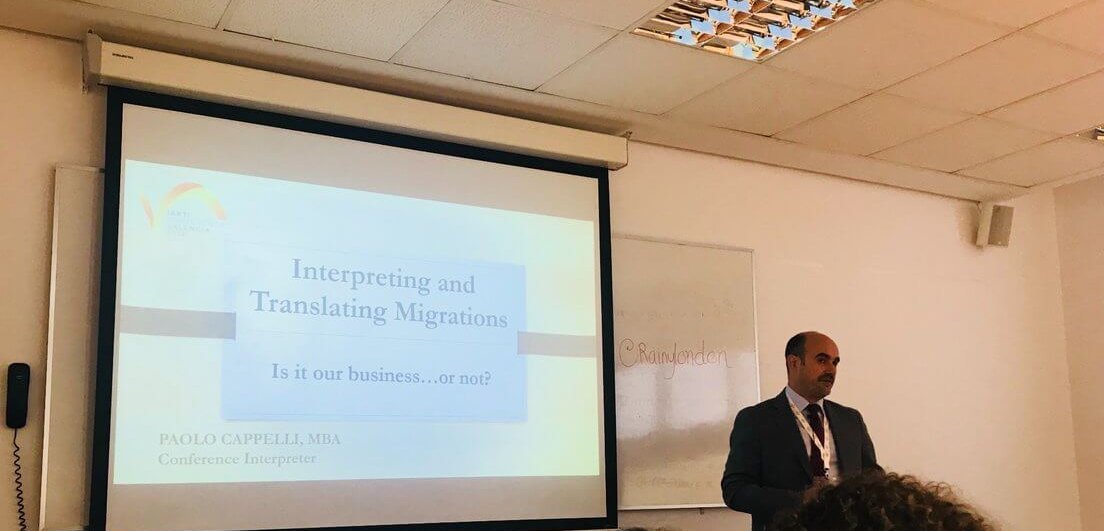 After another very tasty lunch, Stefan Schmidt explained the Aquarius emergency and the role of professional interpreters in similar circumstances.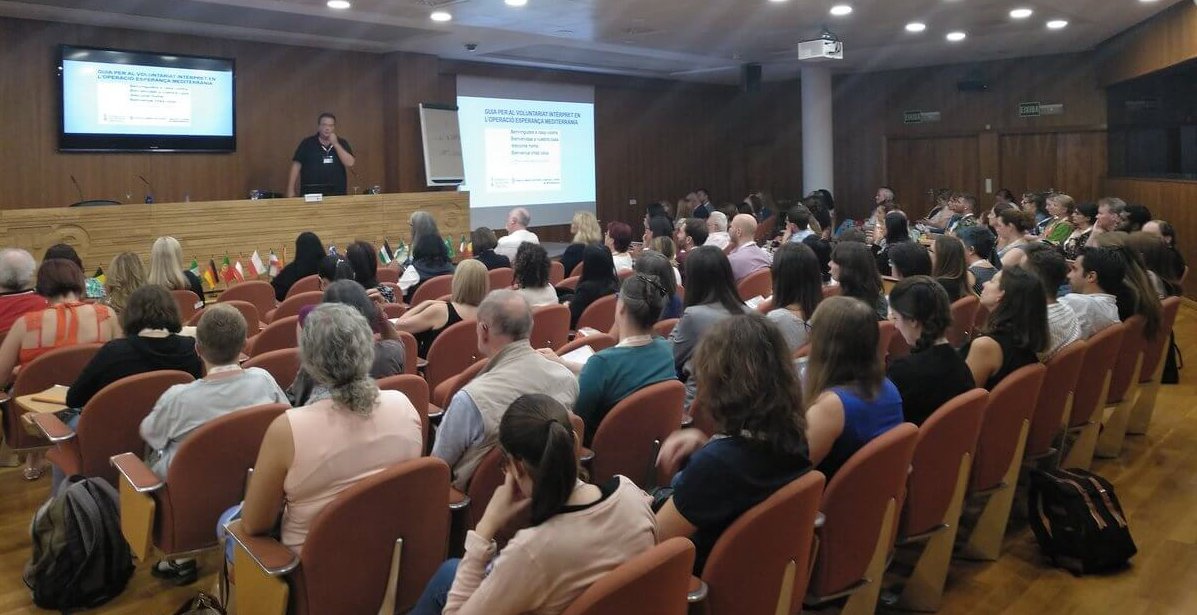 Another inspiring talk was offered by three Polish translators and interpreters: Katharina Wawrzon-Steward, Justyna Gutoswka, and Ewa Jasinska-Davidson. Apart from being freelancers with their own clients, they explained the history behind their common project, Business Language Boutique.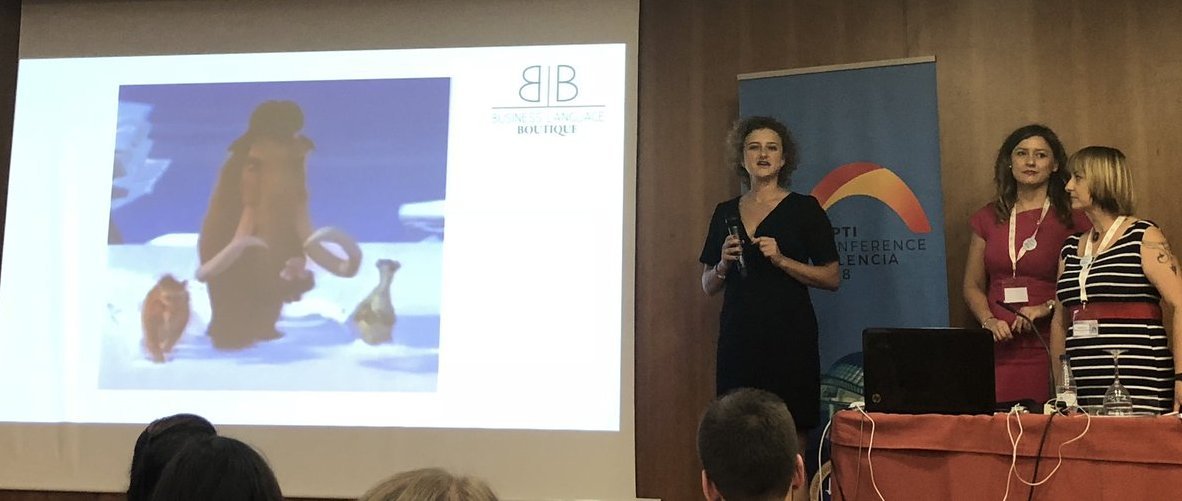 If you wonder how a terminology talk can be hilarious, ask the amazing Heidi Cazes-Sevilla, who explained how to assess one's sources and choose the right terms when translating or preparing for an interpreting assignment.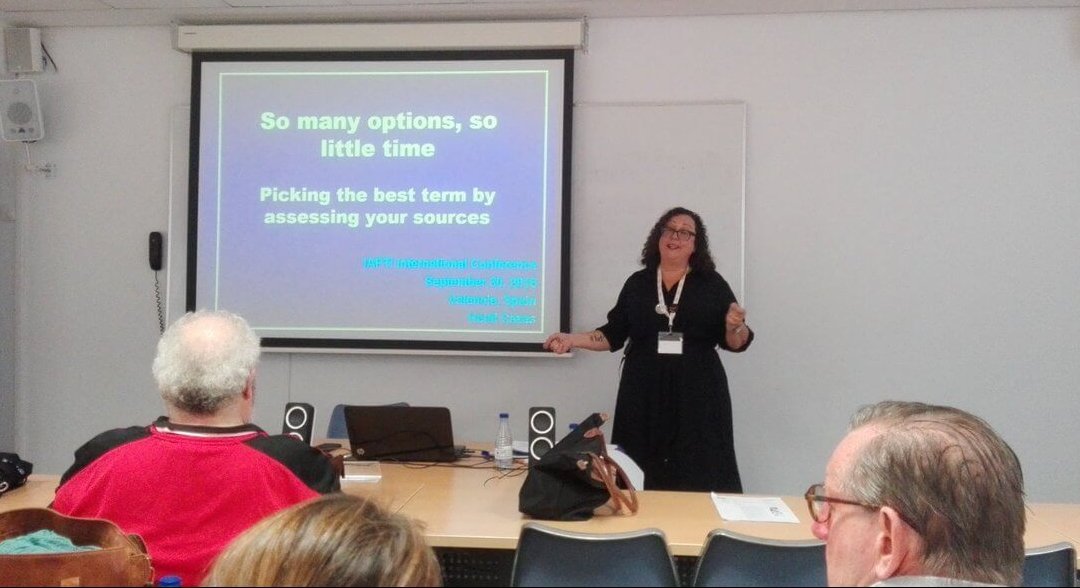 The final presention was delivered by the keynote speaker and charming financial translator, Ralf Lemster, who spoke about new realities of the translation business, such as AI, NMT and PE. Ralf explained that technology is changing the speed of our work, but every curse comes with a blessing. He recommended exploiting the technology available to our benefit, growing our network, improving technical and business-related skills, helping others, and exploring adjacent areas.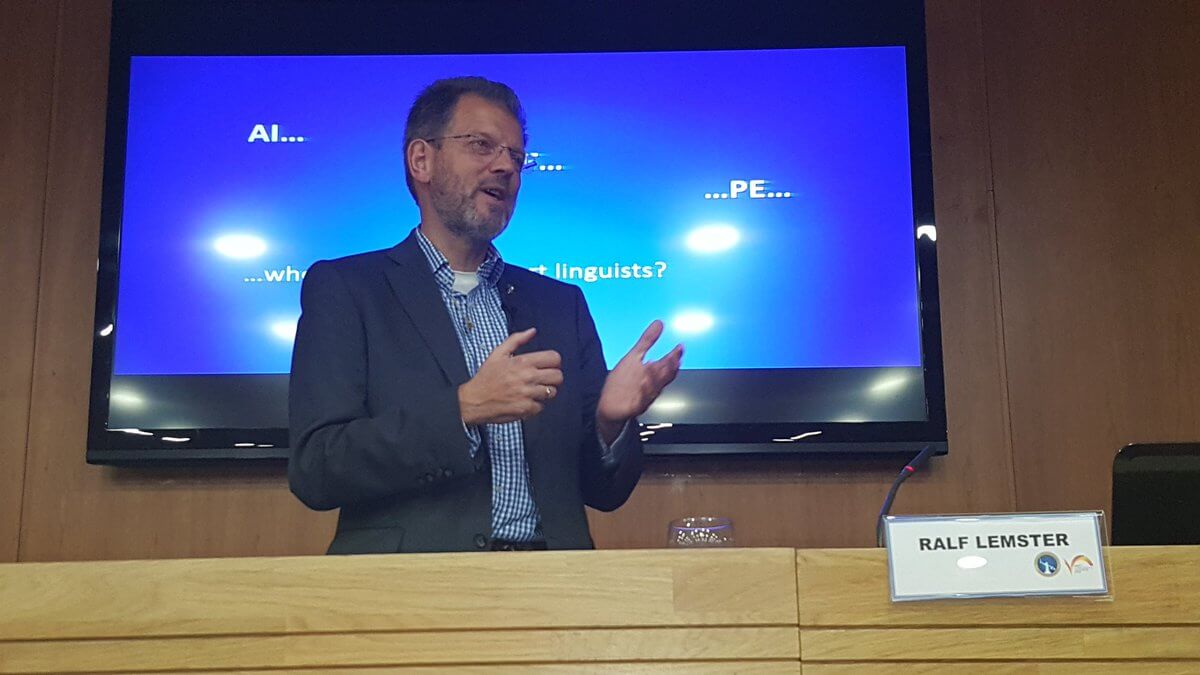 The end… for now
These three days were truly amazing and there was no better way to celebrate together the International Translation Day on September 30th.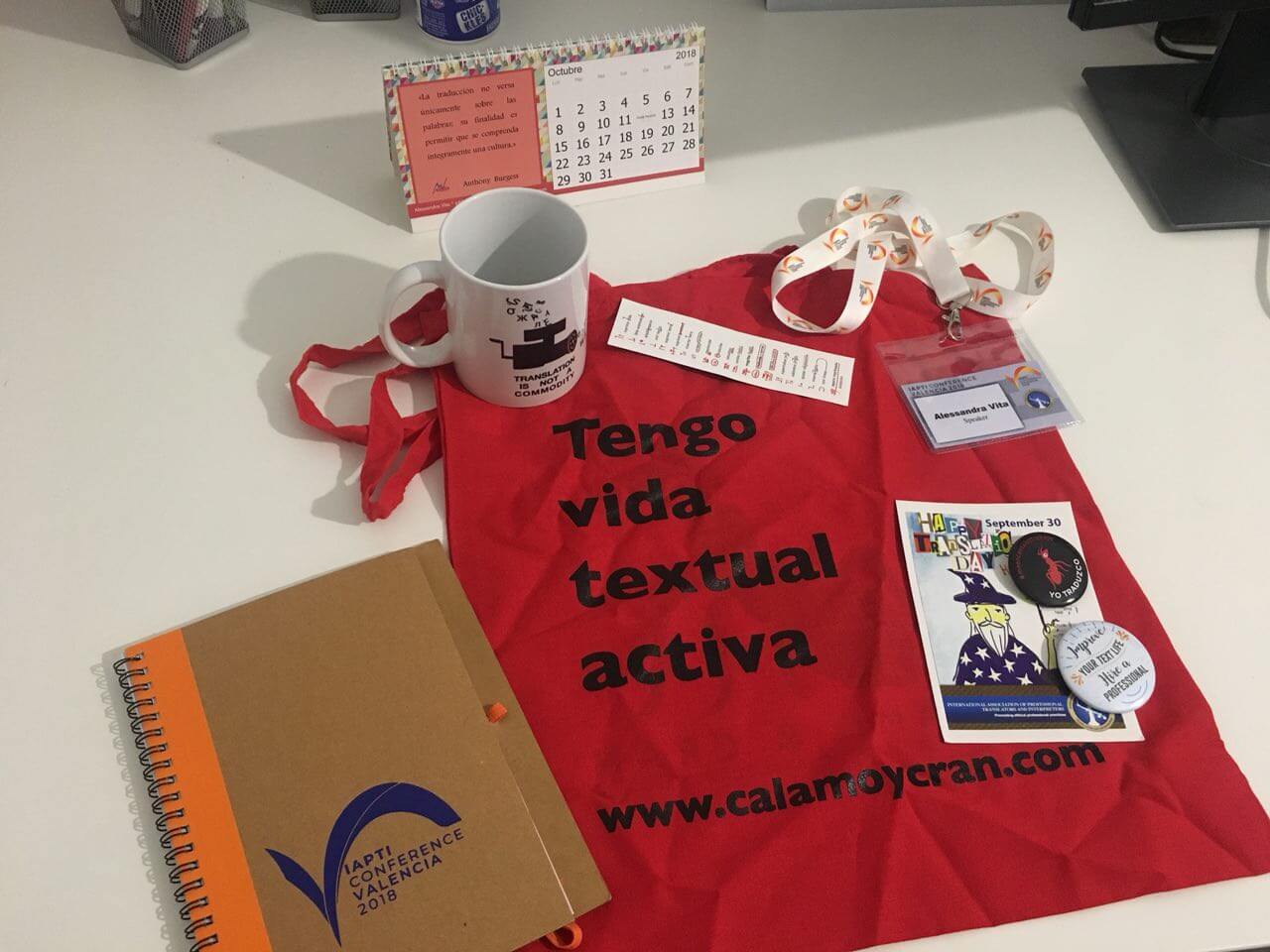 All this was possible thanks to the great IAPTI team, featuring president Aurora Humarán, vice-president Lorena Vicente, Gabriela Mejías, and Gary Smith. Thanks a lot for this wonderful and enriching experience!
We are counting down the days already to meet again soon all the wonderful colleagues who attended IAPTI this year!

P.S. If you want to read more about IAPTI and see more pictures, you can have a look at our Facebook page and check out the #IAPTI2018 hashtag on Twitter.
P.P.S. Foodies definitely have to sign up for IAPTI2019 next year (please don't watch below if you are already hungry and if the fridge is too far away!).