Remote interpreting is here to stay, whether we like it or not. Exactly the same happens in translation with machine translation (MT) and post-editing. Technology is disrupting every industry, not only ours. Yet, we don't expect them to become a one-size-fits-all solution any time soon, meaning that neither every type of document will be translated with MT and then post-edited, nor will all interpreting assignments be provided remotely, and that is for very good reasons.
New and fear go often hand-in-hand, but in general there always some pros and cons in every change. For several years I have been providing over-the-phone consecutive interpreting for a client, and based on my experience it has great advantages, as I will mention in the next post. Yet, when it comes to remote conference interpreting for a big event, it's a different kind of story and I think there are still challenges we need to overcome for it to be a viable option.
This is the service I am most skeptical about providing remotely (in fact, I still don't). The reasons are mainly three:
Technology
Right now, I don't trust technology that much to feel comfortable interpreting from my office. That would imply trusting, on the one hand, that my Internet connection will cooperate smoothly and, on the other, that there won't be any audio and video-related issue (since the AV technician won't be physically there to solve it).
Money
So far the only agencies with remote-interpreting platforms that have contacted me for this kind of services tried to impose me a rate per minute (in general €1 per minute) of actual interpreting, which is absurd and far from acceptable. That means, for example, that if the event starts 30 minutes late I am not paid for that time I have been sitting in front of the screen just waiting, nor will I get a cent during coffee breaks or lunch. Plus, what if the conference lasts for only 40 minutes instead of all day? Will I be paid €40? How can all the preparation be cost-effective then?
For all the above, when receiving that amazing offer, I replied that I was willing to give it a try, but applying my standard fees as if it were a standard onsite conference (charging from the minute I am requested to be there, till the moment I switch off the microphone at the end of the day, but not per minute!). The end client could still save on travelling costs, and since I have to travel 99% of the times from an assignment to the other, I would be more than happy myself to reduce some travelling, but only if good working conditions are safeguarded.
I believe it's too late to expect that everybody could charge decent fees and apply top conditions for onsite assignments, but hopefully we still have time to prevent bad practices from becoming common.
Booth mate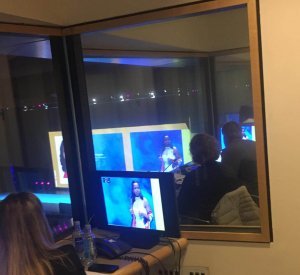 Simultaneous interpreting is a team effort, every professional interpreter knows it. It's not just a matter of turns, of you doing your 30 minutes and then handing the microphone over to your colleague so that your brain can recover. Being physically next to your colleagues allows you to communicate with them even non-verbally: you may just look at them during your turn to implicitely ask them if they got the last idea, figure, name or to tell them that it would be a good time to change.
As far as I know, most online platforms currently available in Europe request you to talk with your colleague through a chat, which is far from ideal in my opinion. It's an additional task that can distract rather than help us. If I were physically with my booth mate in a standard booth, just with a look, the colleague would know if I need help with a term and exactly which one. Via a chat, either colleagues write down everything just in case (which I would find distracting) or I would have to type what I'd need from them. Instead of doing that, I might as well just look it up myself.
For the same reason, according to AIIC guidelines on remote interpreting, both partners should be interpreting together from the same physical location.
A viable remote-interpreting solution in the US
The best solution I have heard of so far is KUDO, a US company allowing you to go to an interpreting studio in the main US cities, such as NYC or Chicago; there you would have a standard ISO booth, which you would share physically with your booth mate, and you would follow the conference via a screen. Plus, you would be able to rely on the support of an AV technician taking care of any technical issue for you.
I find this a good solution for a big country like the US, where distances are huge. Yet, personally, I don't think it is likely to work well in Europe: if they set an interpreting studio in Madrid or London, I might as well just go onsite to the conference, with travelling costs being the same. The only advantage would probably be the chance to provide interpreting services in different time zones (e.g. in the European case, for Asia and the US).
The remote-interpreting debate is definitely still work in progress, so I reserve the right to change my mind based on new evidence and experience gained in this field.
And you? What do you think about it? Do you already provide remote conference-interpreting services? Which platforms or systems do you use? How has your experience been so far? Leave a comment below. 🙂
References: AIIC guidelines on remote interpreting